Giant Bluefin Tuna (Thunnus thynnus)
Our namesake, Bluefin Tuna, is in serious trouble. This majestic species has been driven to the brink of extinction from overfishing. The species in the greatest danger of slipping into extinction is the western north Atlantic population of bluefin tuna. One of the spawning grounds for the species is the Gulf Of Mexico. I don't want to get into a debate on all the other issues, but I will say, the BP Oil Spill in the Gulf will eviscerate the spawning grounds of the Western Atlantic Bluefin Tuna.
Bluefin Tuna are right now moving into their spawning grounds in the Gulf of Mexico. Unfortunately, Bluefin are only in the Gulf for one month, according to Biologist Barbara Bock.
"The giant bluefin only show up for about a month, and this is the time they show up," Stanford University marine biologist Barbara Block told AOL News. "Bluefin tuna are moving to the Gulf of Mexico exactly right now to spawn." Plus, she said, the spill is centered around one of the preferred breeding areas. "Many of the tuna go exactly to that region."
"There is a much larger disaster unfolding here environmentally than people realize," she said. "There is a lot of focus on the Louisiana shoreline, but this is America's greatest fisheries nursery, and we've got to pay attention to what's going on immediately."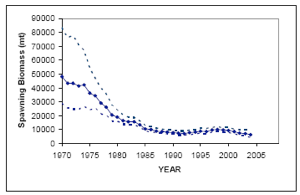 From ICCAT: WITH over 4 decades of overfishing, the fish population has been driven to just fraction of its 1970 or pre-longlining stocks - a decline of 90 plus%.
In comparison to Bluefin, Atlantic white marlin abundance has been driven to 6% of its pre-longlining stocks, and Atlantic blue marlin has been driven to 20% of its pre-longlining stocks.
ICCAT is controlled by commercial interests and NOT recreational fisherman or conservationists. ICCAT frequently ignores it's own scientists in making rulings about quota, tonnage and landings.
So, while we are all for energy independence, we have to realize that energy independence must be tempered with the reality that we are the stewards for the planet. We have to manage our resources around us. Even if it means higher costs for oil.